Kayleigh and Ian: A History
How We Met...
Ian and Kayleigh met on OkCupid.com.
Millennials, amirite? Kidding, obviously.
Ian's photo was of him petting an English Bulldog and Kayleigh immediately clicked on his profile. Kayleigh messaged him first, because OF COURSE she did, and they set up a date to meet that Friday, December 9 2012. Ever since that first date, they've been inseparable. In fact, they made December 9 their official anniversary date of the start of their relationship simply because they both deleted their profiles after the second date and never looked back.
Kayleigh and Ian have been living together since 10 months into their relationship and so far haven't become sick of one another. Job changes, fur-babies, and moving around have only allowed them to grow closer throughout the years.
Ian and Kayleigh are so excited for this next stepping stone in our lives and are so grateful that you're a part of it.
#ThreatLevelWedding
The Big Day Details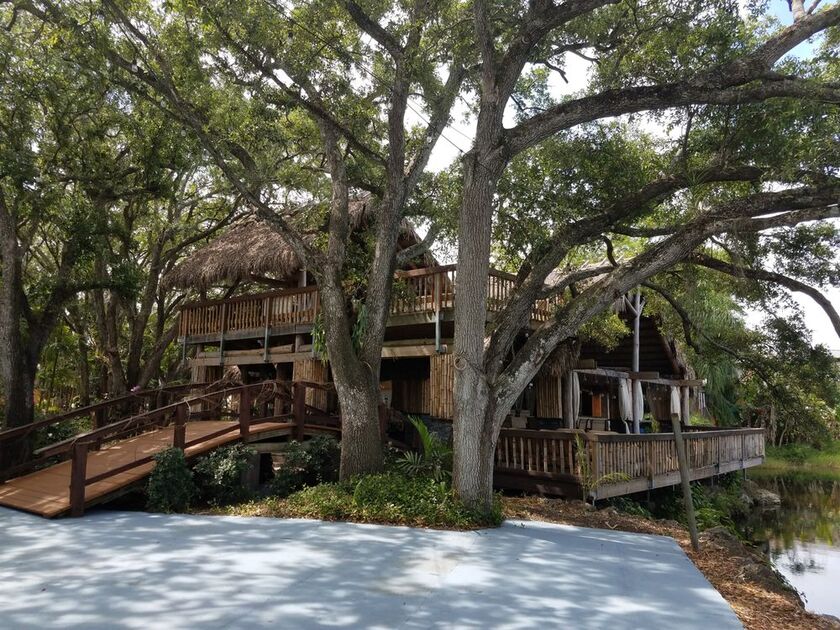 Saturday, June 29, 2019
5:00 PM
Attire: Cocktail Attire
Ceremony and Reception
Living Sculpture Sanctuary
2800 S Flamingo Rd, Davie, FL 33330, USA
Our wedding ceremony and reception are in the same location.
Our wedding will be catered by Rolling Chefs. We will have two meat options, as well as vegetarian options.
This will be an adults-only celebration. Although we love your children, we regretfully cannot accommodate them at the venue due to restricted numbers.

Our wedding venue is covered outdoors. June is a hotter month in Florida, and though our ceremony and reception will be at night, it can still be a bit warm. We recommend cocktail attire.
Please RSVP by returning the self-addressed stamped envelope with the RSVP card.
Wedding Party
Christine - Matron of Honor
Christine and I have a really amazing history with our friendship. We went to high school together and had a ton of friends in common and frequently hung out in the same setting. It wasn't until I met Ian that our friendship really skyrocketed into something bigger.
Christine is married to Ian's best friend and Best Man. When I realized that Ian knew Christine because of this, I was elated because it means we LITERALLY get to be friends for the rest of our lives. The only roommates I've ever had were Christine and George when I first moved in with Ian, and those are some of the fondest memories I have.
A random but coincidental event brought us together and allowed us to build a life-long friendship. I am so excited that the universe needed us to be closer, because Christine is a shining example of how a human being can and should be. She's kind-hearted, talented, a wonderful friend, and a beautiful soul.

I am so happy to have Christine stand beside me on my big day, and to also be a part of one another's lives forever!
Brandee - Bridesmaid
If cartoon bluebirds were real, a couple of them would always be sitting on Brandee's shoulders singing a sweet tune.
I am so delighted to know Brandee. I have never in my life come across someone like her. She goes out of her way to do wonderful and sweet things for her friends. I knew immediately from the moment when I met Brandee that I wanted us to be friends. She was sweet, hilarious, and had such a similar sense of humor to myself (which is actually a trend for "The Broads" as Ian refers to them; Brandee, Laura, and Debbie), that I knew we would get along wonderfully. I held a Craft Day get-together event and from that moment forward, she's been a part of my life everyday. I am so thankful to have met Brandee. For a long time, I didn't have a lot of girlfriends, and now I could cry thinking about how lucky I am to have Brandee in my life. She truly brings out the best in others, and helps me to be a more positive person every day.
I had the honor of attending her wedding in March of 2018, and am thrilled that she will be standing in mine in 2019.
Laura - Bridesmaid
What can I even say about Laura?
The level of laughter I experience when with Laura is insurmountable. Laura is LITERALLY the funniest, greatest, most hard-working human being I know. We can have a night where we make hard plans to work on things or organize something, or just hang out and chat, and 2-3 bottles of wine later, were looking up funny animals or crying at cute man-tears. Jokes are just funnier when Laura tells them. Seriously, ask her to tell you a joke. Laura constantly strives to reach a higher goal, and in that way, she is so motivating and inspiring. I truly feel like in Laura, I have found someone who understands me, and can give the best advice for any situation.
I have so much fun when I am with Laura, and she brightens any room she walks into. I have the privilege and honor to officiate her wedding this September, and am so excited to have her stand with me in my wedding in 2019.
Debbie - Bridesmaid
Debbie is one of the most talented humans to ever exist on planet Earth. Look it up, its a true fact I made up. She's hilarious, she's crafty, she's a business woman on the rise, AND when it comes to baking, she's uncontested. Debbie is not only one of my beautiful bridesmaids, but also handling our wedding desserts. I have known Deb for a long while now. We've been doing the same craft show circuit for years, all the time slowly becoming friends until one day, it was as if a firecracker went off and we left the boundary of "just friends" to "super close awesome friends".
Every moment spent in the company of Debbie is a moment filled with smiles, laughter, and happiness. I am so proud to be friends with Debbie, to work with Debbie, to KNOW Debbie and am grateful for her being a part of this special day.
Sama - Bridesmaid
The world would be a better place if more people were like Sama.
I met Sama back in 2011 at Playlist Live up in Orlando. We quickly realized that we lived close to one another, and a friendship was born, thanks to our mutual love of creating content online. Sama and I have literally gone through so many highs and lows within each of our lives, and the one thing that has remained true and constant was our friendship. Sama is literally a friendship unicorn, except she's better than a unicorn, because she's real. The level of compassion, love, and kindness she has to give to everyone in her life is out of this world. I have always been curious as to how Sama can have so many strong friendships, but when I truly think about it, it's not curious at all. It's just who she is. She is the friend that you wish you had. The friend that is always there, who always says the thing you need when you're down, or does the action that makes you question why more people aren't like her.
Plus, she's the one friend I have who will mutually fan-girl any and all things Harry Potter with me! I honestly can say that life without Sama would be truly sad. I am so happy to have her standing with me.
Erin - Bridesmaid
Erin is the type of person to want you to always be your best self. She's strong, business-savvy, courageous, and beautiful inside and out. I sometimes have to pinch myself because I truly feel so lucky to be able to call her a friend.
Erin and I met because I was a follower of her craft online. Being a very skilled and successful tattooer, I dreamed of being tattooed by her one day. I was lucky to vend a convention that she was also tattooing at, and received my first tattoo from her there. If you asked me what unfolded from then and now to bring us so close, I can't pinpoint an exact moment. It just happened without any question or force. We fell into a beautiful friendship and every single day I am blown away at how fiercely wonderful Erin is. Erin brings the absolute best out in everyone. She shows you that you can always want better for yourself, that you can rely on your friends for support, to help one another; to build one another up. Erin, you make a bigger impact on others than you realize, and being your friend is one of the greatest gifts I could ever have asked for.
Thank you for standing with me.
Lauren - Bridesmaid
Lauren and I have been friends for so many years, I've essentially lost count. We've been to midnight Harry Potter releases with one another, Lauren was with me when I FIRST experienced the wizarding world. We drove to Tampa to watch some boys perform wizard rock in a library. We've been on so many adventures with one another, and this is our next one!
Lauren has such an amazing sense of humor and her laughter and smile light up a room. She's beautiful inside and out, and every moment with her is one filled with laughs, love, and special moments. I am so thankful to have her in my life. Whether you have a small group of close friends or a bigger group of personalities, each of those friendships brings something new to our lives, inspiring us to see the world a totally different way, giving us a new shoulder to lean on, and a new cheerleader to root us on. Lauren is that person I can text with any problem or issue. Lauren is first in line to root on my accomplishments. She's unique, wonderful, and irreplaceable.
She's the Gryffindor to my Slytherin and we've experienced so many milestones with one another, so naturally I knew she needed to be by my side at the wedding.

Travis Fabisch - Groomsman
Brian Buchanan - Groomsman