Guest Accommodations
Renaissance Fort Lauderdale-Plantation Hotel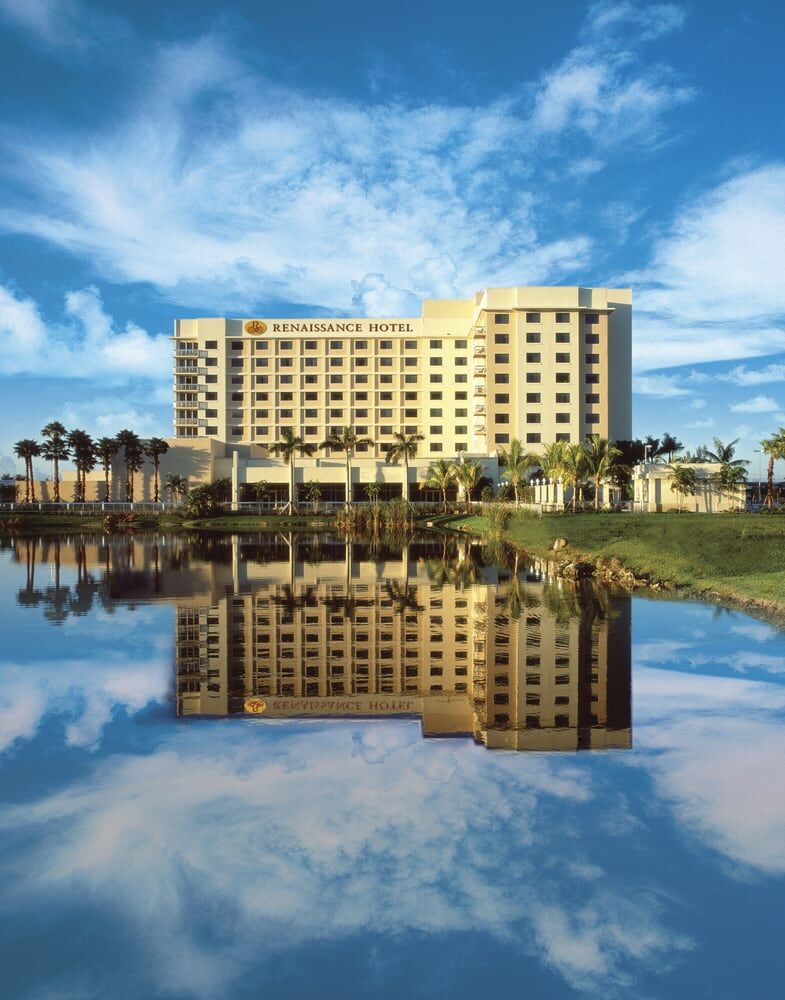 1230 S Pine Island Rd, Plantation, FL 33324, USA
9544722252

Right now, we have a block in place from 6/28/2019 to 6/30/2019. You are welcome to add on days as you see fit! The hotel is roughly a 10 minute drive from the venue, but also about 10 minutes from Downtown Fort Lauderdale!
Here is the link to book: https://book.passkey.com/e/49725610
The room rate is $145 a night. Check in is at 4:00pm or later. If you arrive earlier, they can supply a room as long as it's available. Check out is at 11:00am, however if you are a Marriott rewards member, they usually can extend checkout.
There is complimentary parking and internet for every guest.
Travel and Transportation
Fort Lauderdale-Hollywood International Airport
100 Terminal Dr, Fort Lauderdale, FL 33315, USA

This is the closest airport to fly into for the wedding! The Renaissance that our hotel room block is located at is a 12 minute drive / uber away!
Things to Do
Walt Disney World Resort
Walt Disney World Resort, Orlando, FL 32830, USA

If you are planning on an extended trip to Florida, Orlando is only 3 hours away! You can always plan to visit Walt Disney World before or after the wedding to get a full vacation out of your trip!
Universal Studios Florida
6000 Universal Blvd, Orlando, FL 32819, USA

If you are planning to make the most of your trip, Orlando is only a 3 hour drive away! Make plans to visit Universal Studios while you're in Florida if you want to make a vacation out of your trip!
Everglades Holiday Park
21940 Griffin Rd, Fort Lauderdale, FL 33332, USA

Everglades Holiday Park offers tours via airboat, as well as an Alligator meet and greet!
Seminole Hard Rock Hotel & Casino - Hollywood, FL
1 Seminole Way, Hollywood, FL 33314, USA

Bangin' Banjo Brewing Company
3200 NW 23rd Ave #500, Pompano Beach, FL 33069, USA

There are a TON of breweries in Fort Lauderdale and the surrounding areas!
Broski Ciderworks
1465 SW 6th Ct, Pompano Beach, FL 33069, USA

A great cider brewery in Pompano Beach, FL!
iFLY
11690 W State Rd 84, Davie, FL 33325, USA

If indoor skydiving is your thing, this is less than 5 minutes from the hotel.
F A Q
So you have questions.
Well, I have answers. In fact, most of the information here should answer the bulk of your immediate questions.
This FAQ is SUPER important. Screen-shot it. It will help you on the path to greatness! Or just the path to our wedding.
ARE THE CEREMONY AND RECEPTION IN THE SAME PLACE?
Yep. We kept is simple. Living Sculpture Sanctuary in Davie FL. Look for the red Japanese Torii gate. on the east side of Flamingo / Access Road.
WHERE DO WE PARK?
Enter through the red Torii gate, the road will wind to the left. Make a right towards the lake and drive straight until you see the valet. Ian and I are supplying complementary valet for our guests, so please bring a couple dollars to tip!
WHATS UP WITH THE WEATHER?
It's summer in Florida. It will be hot. Our wedding ceremony is outside uncovered, while the reception is in a covered tree house.
WHAT TIME SHOULD WE BE THERE?
The ceremony starts at 5pm. Please arrive at least 15 minutes beforehand.
WHAT SHOULD I WEAR?
You're welcome to get as fancy as you want, but we recommend cocktail casual. We HIGHLY recommend no heels, as the ground is difficult to walk on as is. There are steps and gravel and all sorts of fun terrain.
WHAT HAPPENS AFTER THE CEREMONY?
The bridal party and family will be taking photos for an hour, so while that's happening, we will have the bar open up for cocktail hour and passed appetizers for you to enjoy!
IS THERE OPEN BAR?
Yes! Ian and I want you all to enjoy yourselves, so the bar is our gift to you! We'll have two signature drinks, sodas, water, 4 draft beers, and three wine options. All we ask is that you bring some cash to tip your bartenders!
CAN I BRING MY KIDS?
Unfortunately, no. Our venue is extremely dangerous for an unattended child. Lots of places to get into trouble without adult supervision. We want you to enjoy your night and ask that you leave the kids with a sitter for our celebration.
CAN I BRING A DATE?
No additional plus-ones will be given out unless specified on your wedding invitation. We have a budget to stick to, and our wedding is RSVP only.
I STILL HAVE QUESTIONS, HOW CAN I FIND THE ANSWERS?
Text Ian or Kayleigh, we can answer them for you!